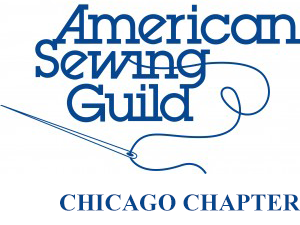 The American Sewing Guild (ASG) is a non-profit organization for people who love to sew.  We feel that sharing the joy of sewing is almost as much fun as the creative process of sewing itself.  ASG provides up-to-date sewing information, educational programs, community service opportunities and a friendly support system for sewing enthusiasts at all levels of skill and experience and a wide variety of sewing interests.  If you have a passion for creating with needle and thread, you owe it to yourself to give us a try.
ASG has more than 135 ASG chapters nationwide.  Founded in 1987, the Chicago Chapter serves the Chicagoland area from northern Indiana to just shy of the Wisconsin border.  We have a growing number of Neighborhood Groups that meet monthly.  In addition, the Chicago Chapter hosts a variety of educational and social events as well as an annual luncheon and fashion show.
Not a member yet?  Please visit our Join Us page to find out about the great benefits of being an ASGmember or click below to join today.
The header image is a picture of a composite of the Chicago skyline, created by the Arlington Heights neighborhood group. Each member contributed a building to the final piece, which was raffled off at one of their meetings.